I bought a new refrigerator, model K 34673 iD, which I wanted to add to my Miele@home system. It was marked as "Prepared" for Miele@home, which I assumed meant that it was simply a matter of adding an XKS module to it. I already bought an XKS 3000 Z (ZigBee) module two years ago at the same time as I placed an order for the previous model, K 34473 iD. That order was unfortunately cancelled, so I ended up with the XKS 3000 Z module and a retrofit kit, XKV 3000 KF.
The new model was prepared for the XKS 3130 W (Wi-Fi) module, but as this is an upgrade that should be backwards compatible, I had hope that XKS 3000 Z would also be forwards compatible. Back to that later. Both modules look exactly like this:

The first problem was that I could not find anywhere to connect the XKS 3000 Z module on the back of the refrigerator as documented. I eventually gave up and desperately created a support ticket at Miele Denmark. A technical employee called me back pretty quickly and instructed me how to perform the operation. This is where the retrofit came into the picture. I was told that I needed a special cable, and that he would send it to me. This is the cable I already got:
Product name: XKV 3000 KF
Materialnummer: 9788210
EAN: 4002515415245
And this it the cable that was sent to me:
Materialnummer: 11034080
EAN: 4002516106159
The cables look pretty identical, but I'm not sure they are. It could actually be the case that some models would need one cable type and others would need the other. Otherwise I don't see why they would change the product number etc., but of course, you never know.
The modification I had to do involved dismounting the display panel on the front of the refrigerator. A screwdriver was needed to remove the covers on each side of the panel, but this I had to do anyway, since I need to change the door hinging. After reading the manual a few times, I succeeded with this without leaving any visible scratches from the front. Next, the display had to be removed. This can be done without any tools, but it requires a lot of force. The cables are long enough so it can be safely pulled out. It was hard to do, especially at the sides, but it worked out: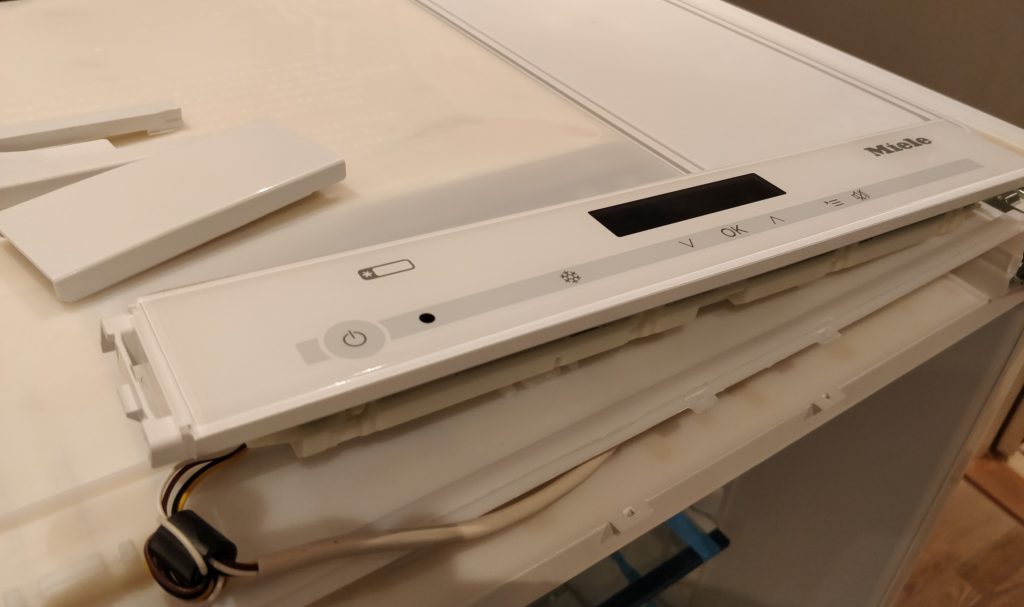 Next challenge was to connect the cable and get it to work. This is actually very easy, but a simple mistake delayed my project with more than a week, cost me € 80 and a lot of frustrations. Again I was saved by the same Miele employee that called me the week before.The mistake was this: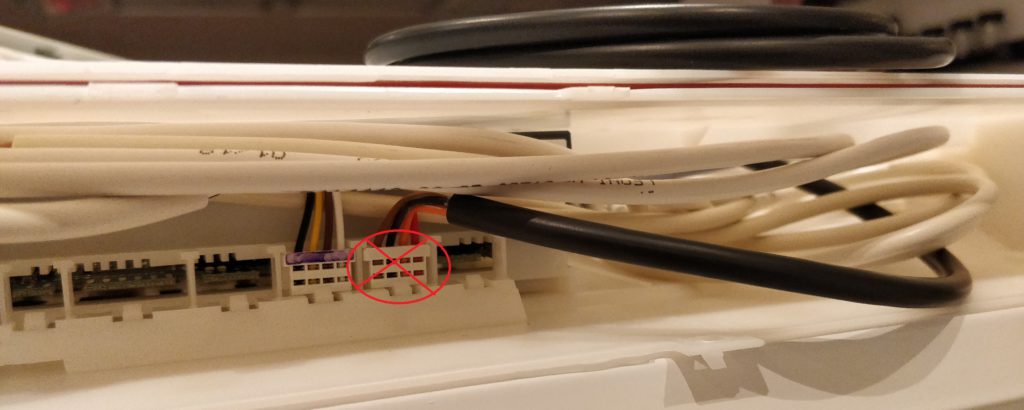 The connector fits perfectly into this socket. But this is the wrong place, and it took me a week to figure that out. In the meantime I was struggling with error "FF" – the refrigerator will not function when a module is connected to this socket. The display will just blink and switch between displaying "FF" and "–". In the meantime I ordered the XKS 3130 W module, because it could be compatibility issues with the old XKS 3000 Z module, and also this old module wasn't supported.
The module should not be connected to the main electronics, but instead on the side of the display panel: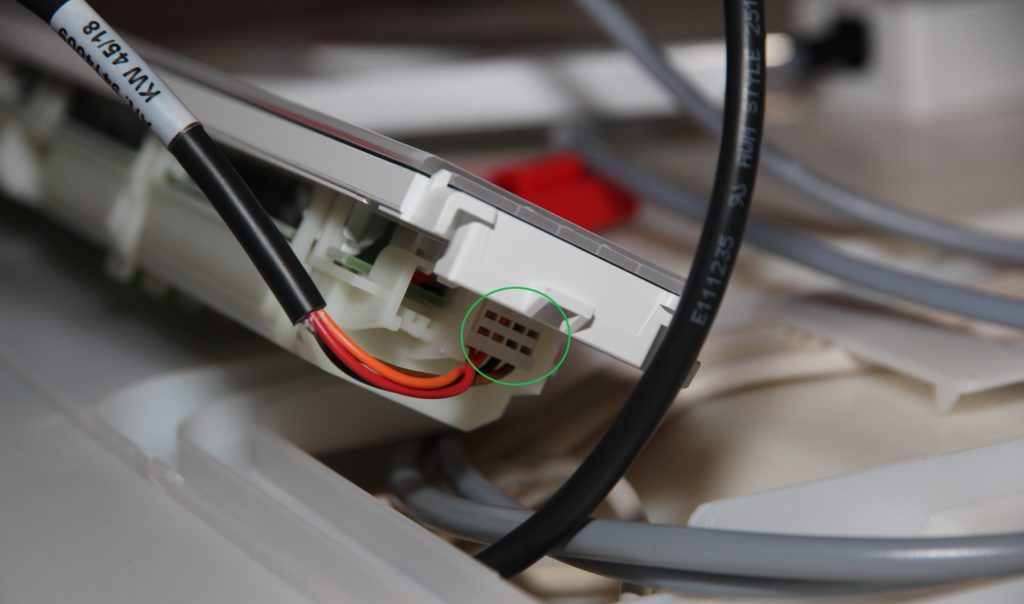 After correcting this mistake, everything started to work. I tried the XKS 3000 Z module first, and it worked:

Note: It might take up to a minute before the Miele@home logo displays. To perform the configuration click the menu button (second rightmost), then click up or down until the symbol is blinking. Now click OK, and "0" is displayed. Click Up so that it changes to "1" and click OK again. Now add the device on the XGW 3000 Z gateway.
Next I tried the XKS 3130 W module for comparison. The configuration is different. In this case you just have to use the Miele@mobile app to add the module to the Wi-Fi network. This worked out pretty easily.
I haven't been able to spot any differences in terms of functionality between the two modules, so I have decided to mount the refrigerator with the ZigBee module instead of the Wi-Fi one. Since I own the XGW 3000 Z gateway, this way I will not create a dependency to my router/Wi-Fi network, and the ZigBee module will perhaps even help creating a better ZigBee mesh network together with my other ZigBee Miele@home devices. Functionality of both modules – from app and Homebus protocol:
Reading of current temperature.
Reading of target temperature.
Reading of state "door open".
Starting and stopping super cooling.
Starting refrigerator when off (only through Homebus, Miele's app doesn't support this).
That's it. You do this kind of project because you can, and for no other reason. I'm not letting people get to me by asking why. It's simply because I can, and because it's fun. 🙂 Time for wrapping up, having the new cable nicely put into place: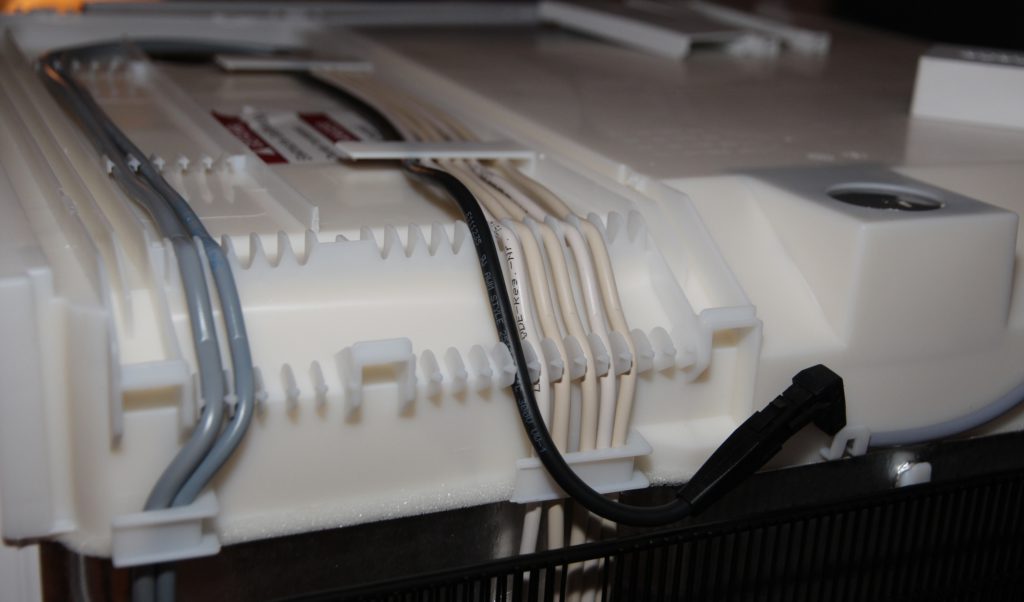 And put top cover back on again: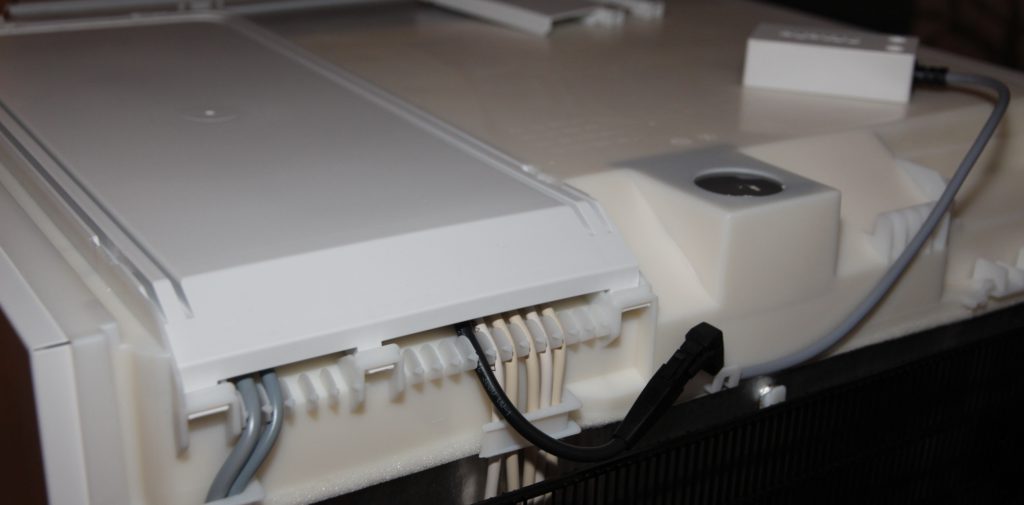 The new appliance as seen in the Miele@mobile app: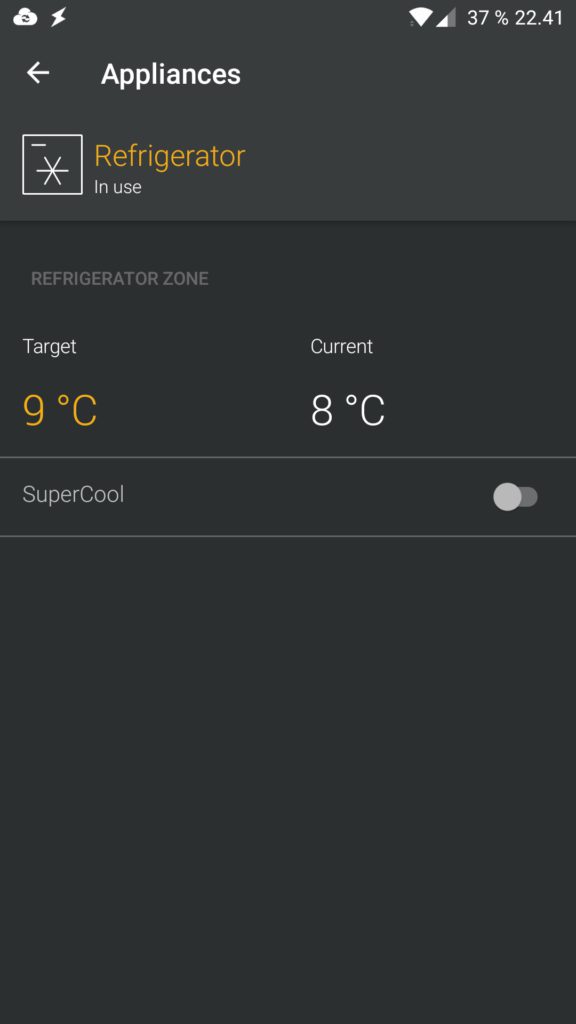 Power consumption
As bonus info, I made some power measurements before integrating the refrigerator. Here are the numbers:
Idle without any module installed: 1.0 W
Idle with XKS 3000 Z installed: 1.5 W
Idle with XKS 3130 W installed: 1.9 W
Twin refrigerator
Fun fact: Miele K 34673 iD seems to be a rebranded version of Liebherr IKBP 2360-20. It would be interesting to try to integrate a Liebherr refrigerator into a Miele@home system. The model number and serial number is identified though, so it might not be possible. Price difference: >300 EUR.